Euroshield Shingles – what are they? They are the Finest rubber roofing system in the world. We encourage you to click on the link below and check out the "About Us-Features & Benefits" tab and the "Frequently Asked Questions tab". Please take a look around at this website and view their gallery page as well.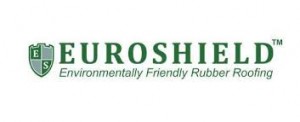 FEATURES & BENEFITS:
Looks Great- Aesthetically Pleasing
Durable-Walkable-Long Lasting
Environmentally Friendly Recycled Rubber
Extreme Hail Resistant
Lightweight (2.2 to 3.3 lbs/sq.ft depending on profile)
Affordable Permanent Roofing
Easy to install Panels mean fast installation
Maintenance Free
Potential Homeowner Insurance Discount (hail/impact)
Quiet-Sound deadening and Insulating Qualities
Adds value to your home (less reshingling)
Transferable Limited Lifetime Warranty
If you have any questions or if you would like to see some actual samples give Rick a call! 712-541-7313.
For more information about Euroshield. Click on the logo below.